The Farmers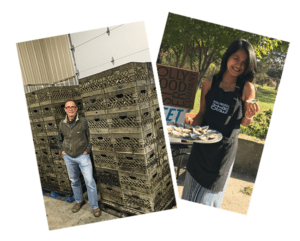 Tal Petty started growing oysters on weekends at his family's weekend farm and soon had dozens of cages and thousands of oysters that he shared with friends.
Foodies consistently commented on the unique and delicious taste of the oysters. Tal began the oyster farm permitting process in 2010, as new Maryland regulations promoting oyster aquaculture were unanimously approved by State legislature.
Tal had an 'aha' moment in 2013 and moved from Bethesda, Maryland to the oyster farm – he hasn't looked back. He met his wife, Na, visiting an oyster farm in Thailand where she was his translator. Na left a successful marketing business to move to Hollywood, MD. The couple travels frequently promoting Hollywood oyster brands.
To read Tal and Na's love story, click here to read more.